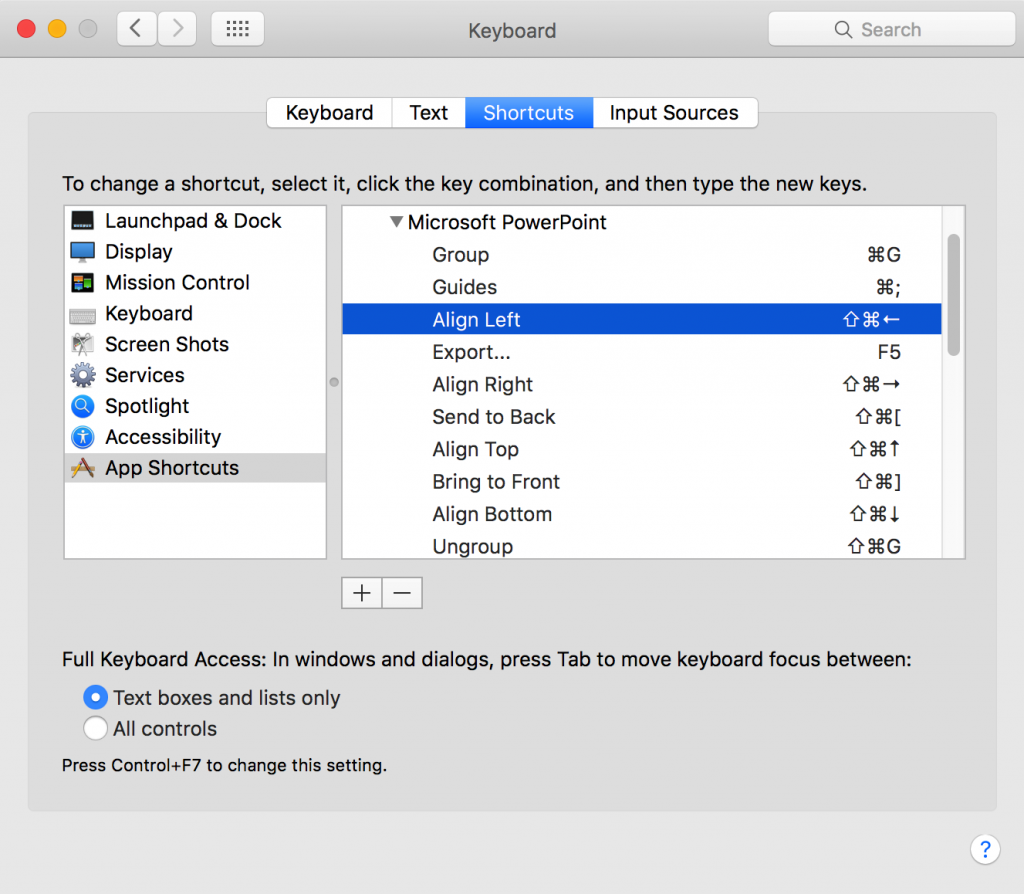 Yes, PowerPoint comes preloaded with hundreds of keyboard shortcuts for all types of functions, but naturally, it seems like some of the things you need to do most often can only be done by mousing and clicking. And Microsoft gives you no method for specifying custom keyboard shortcuts or changing the default ones.
Fortunately, Mac OS does allow you to set and change keyboard commands not just for Mac OS, but for almost any application running on your Mac via the System Preferences: Keyboard: App Shortcuts menu. Let me stress that this happens on the OS level outside of PowerPoint, so you need to go to your Mac preferences, not your PowerPoint ones. Your window should look like this, and you can add any installed app here and then start customizing keyboard commands. It's fairly straightforward in that you have to physically type in the app menu command exactly as it appears (i.e. "Save as…") and then you can specific what key combination you would like. Any changes here will override the app's default shortcuts.
So, what are my favorite shortcuts? As you can see from the screengrab above, I have specified key commands for alignment and layer order. I am forever doing a finger dance of aligning, grouping, ungrouping, aligning objects and having to click the ribbon each time is a major time killer. So, picking up a cue from keyboard shortcuts in InDesign, I've set Shift-Command-Arrows to do the work for me. It's a huge time saver.
What About the PC?
Well, up until yesterday, I didn't think there was any easy way to assign similar shortcuts on the PC. But I just discovered OfficeOne's Shortcut Manager for PowerPoint which via add-in allows you to do pretty much the exact same thing as Mac's system preferences. Shortcut Manager is actually a bit easier to use in that you can search for and choose functions from category lists and even filter by assigned and unassigned along with specifying whether the commands should be active during slide design and/or slide show. It's simple, but powerful. It's also a bit steep at $39.95, but there is a 30-day trial. And honestly, if are hunting and pecking for the align right tool as often as I used to, it's a bargain. Take it for a test drive!